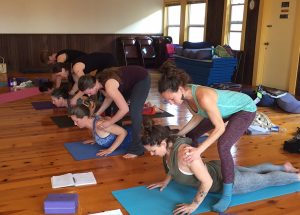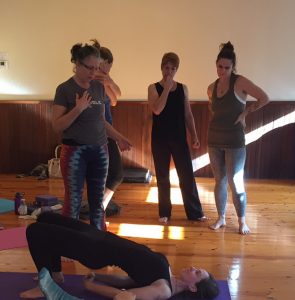 Sundays, 1 – 5:30 p.m.
Feb. 12, March 5, April 2 and April 23

For those who have completed a 200-hour TT, this is a place to come together with fellow teachers to refine your skills, build your confidence, and take your teaching to the next level. Whether you are teaching or haven't yet started, expect to refresh your skills and deepen your knowledge and experience for helping different levels of students.

INCLUDES:
getting feedback on your teaching
refreshing your understanding of alignment
teaching with simple alignment cues
how to spot and address misalignments in the class
modifying poses for common conditions and limitations
intelligent sequencing for different levels of students
teaching to intermediate and beginning students
how to offer options to mixed-levels of students
hands-on adjustments
therapeutic considerations
weaving in heart themes or yoga philosophy
Other topics can be incorporated at the group's request.
Teachers are welcome to bring questions and requests about specific students and situations.

$295 if paid by January 20, $335 after 18 CEU's available
PayPal coming soon!
TESTIMONIALS from the recent Refresher Course:
"I learned so much about refining my alignment cues and knowledge, developing my voice as a teacher and many little 'tricks' to help myself and students stay safe in and deepen the experience of a posture.  The hands-on assist practices were thorough and concise.  Many things I learned in my first training were built upon and made more clear.  Thanks so much!"
"Demo and assisting instruction were very helpful and informative.  Lots of information covered without overloading the days or the students.  Taking instruction from and teaching to the fellow participants was of great benefit. Thank you!"
"Overall the class was great!  Thank you!  I appreciate all of the opportunity you gave us to ask about what we would like to review and then following through on that.  Thanks for all of the great feedback and sharing your expertise."
"It is a joy to study with Robyn and I appreciate her open hearted instruction and years of teaching experience.  The balance of personal teaching practice and your own modeling and feedback were really helpful."
"Your presence, energy, knowledge and feedback is incredible and delivered in an easy to understand and passionate manner.  I liked the freedom we had to modify class and work on things the whole group was wanting."
Robyn Smith has been teaching yoga for over 21 years.  She is a certified Anusara Instructor and holds the senior 500 E-RYT registration with Yoga Alliance.  She is known for her keen eye for alignment, her humor, enthusiasm, and simple way of weaving in powerful philosophical teachings into pertinent life lessons through the practice.  She has been offering annual teacher training in Arcata since 2005 and has assisted at many trainings in the region.  Read More about Robyn's teaching.