The Gift of the Present Moment
Weekend workshops with Desirée Rumbaugh
from San Diego, CA
November 10 – 12
When we honor the present moment, all unhappiness and suffering dissolves. Life begins to flow with joy and ease. In the now, your problems dissolve. Suffering cannot survive in the now. This weekend, immerse yourself in your yoga practice with a deep sense of attention, care and love. Desiree Rumbaugh returns to Arcata offering new insights that will inspire you in your body, mind and life. Join our playful community and give yourself the gift of time to renew and refresh in all ways.
Desiree is excited to return to Arcata to offer the new information from her work over the past several years with Functional Manual Physical Therapists. Functional Manual Physical Therapy is hands on work and from that we have learned some new core building techniques and other exercises to promote strength and integration so we don't get hurt doing what we love—yoga or our favorite athletic activities.  Over the course of the weekend, she will combine this new knowledge with her extensive practice and study in the Iyengar and Anusara methods of alignment based Hatha Yoga offering new insight to all of yoga practitioners. Join our local community in welcoming this seriously playful teacher for a weekend that is guaranteed to be inspiring, heart warming and challenging in the best of ways.
www.desireerumbaugh.com
SCHEDULE:
Note: Friday night's class is delayed 30 minutes now starting at 6:30
Friday, November 10,  6:30 – 9:00 p.m.:  Hip Openers, Pranayama and Meditation: The Difference Between Happiness and Inner Peace
Saturday, November 11, 12  – 2:30 p.m.: Backbends from a Place of Integration
Saturday, November 11, 4 – 6:30 p.m.: Forward Bends and Twists to Clear Your Body and Mind
Sunday, November 12,  10 a.m. – 12:30 p.m.: Playful Arm Balance Flow
Join us as we welcome Desirée Rumbaugh back for a weekend of playful discovery and renewed inspiration!  People are coming from all over the region.  Don't miss this awesome opportunity to study with a world-renown teacher!
PRICE:
$40 per class if paid by October 28, $45 after
Whole weekend:  $145 if paid by October 28, $165 after
Checks or cash also accepted at Inner Freedom Yoga classes and at Om Shala Yoga.
Please make checks payable to Inner Freedom Yoga or Om Shala Yoga.
PLEASE USE ARROW ON PAYPAL BUTTON FOR CLASS OPTIONS
PLEASE NOTE SPECIFIC LOCATIONS:
Friday evening and Sunday morning sessions are located at Om Shala Yoga, 858 10th St., above Humboldt Brewery.
Saturday sessions are located at Arcata Presbyterian Church, 670 11th St. in the upstairs gym.  Enter across from Wells Fargo Bank through Todd Room door.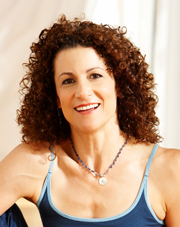 Desirée Rumbaugh teaches from the experiences of more than two decades of practice. As a full-time teacher, she travels the world offering workshops, which are innovative and transformative, challenging and compassionate. She has a well-earned reputation for deepening the most new to the most seasoned practices, through humor balanced with a quest for authenticity.
Desirée  is an internationally recognized yoga teacher with unquenchable enthusiasm for life, love and healing. She blends playful humor with an authentic inquiry into the nature of being to help her students discover their own power, courage and beauty.
Her passion for teaching both the art and the science of yoga is fueled in part by her own experience recovering from deep grief as a bereaved parent.  For Desirée, yoga has been a life-saver emotionally as well as physically. With longtime studies in Iyengar and Anusara yoga, she brings 25 years of experience, experimentation and creativity to her ever-evolving, outside-of-the-box style of teaching.
She has produced a DVD series entitled "Yoga to the Rescue" and is a regular contributor to Yoga Journal, having also appeared on its cover. Desiree supports the Art of Yoga Project serving teenage girls in the juvenile justice system.  She lives with her husband in southern California.