A  JOURNEY INTO CONNECTION
WITH ROBYN SMITH
If you are wanting…
A Sacred Space of Support with other Women


To Break Through into Deeper Levels of Intimacy in your Relationships

Self-Acceptance instead of Self-Criticism

To Reclaim your Natural Joy and Aliveness
Then I welcome you to join us….
Radiance is our essential nature.  We are born with a natural radiance; an aware luminosity and vitality that shines through our eyes.  It is our birthright to feel alive, bright, open and free.  And yet, things happen that cause us to shut down our beautiful aliveness.  We feel closed, stuck, inadequate, or like we're barely getting by.
This course is about unveiling and reigniting your natural radiance so you can feel abundant and expanded.  It's about learning to fully embody and enjoy the richness of life through deepening connections with others and with all aspects of who your are.
We will embark on The Path of the Feminine – a gentle and loving approach to awakening and embracing our inner radiance:  in body, sexuality, and feelings; as lovers, creators, healers, and spiritual beings.
Tantra, an ancient wisdom source of yoga, offers us this path back to Wholeness and Joy.
" I most appreciate Robyn's calm, centered, grounded and confident presence.  Her pacing was perfect, giving plenty of time while keeping things moving with fluidity.  And the practices were beautiful.  I really felt held and nurtured.  Thank you!"  – Kendra, school teacher
Women Thrive with Support from their Sisters:
Through my years of being in and out of communities, women's groups and friendships, I've discovered that I thrive and feel the most confident, empowered and connected when I am meeting regularly with other women.  Women hold space for each other in a special way.  Something magical happens when we come together with our vulnerability, curiosity and open hearts. We feel held and nourished in the company of other women going through similar things.  We relax into the shared space of connectivity and compassion.  And we feel uplifted in our common vision for connection.  And when we add ritual, intention and sacred teachings of yoga into the mix, the real magic begins!

This circle is designed to be a sacred container for women to bond and grow together.  It's a place to learn new ways of being intimate with ourselves, with one another, and with our loved-ones outside the circle.  We will create a special bond held by ritual, presence, confidentiality and respect.
In this series, women will come together to share and grow in an intimate setting.   There will be many practices taught from the tradition of Tantra:  techniques for harnessing and channeling your sexual energy; breathing and meditation practices for centering and creating inner calm; plus tools for deepening intimacy through touch and skillful communication.
We will meet 8 times, on alternate Monday evenings, 

7 – 9 p.m.




February 26 – June 4

  in Arcata, as well as in 2 conference calls
and one day-long river retreat.
The Journey Includes:
8 two-hour in person meetings
2 one-hour Conference Calls or online Zoom meetings
1 day-long retreat at the river on June 10
Private Facebook Community forum
Opportunities for live coaching in the meetings, forum and calls
Recordings of all live calls

 "I feel safe in Robyn's container and guidance.  I feel relaxed and easefully follow her instructions.  I trust her expertise and what she wants to explore and teach me."      – Kalia, Arcata business owner and Mom

Our Preliminary Schedule:
Every meeting includes time to connect with others, ritual, breathing, simple movement and meditation, among other practices.  Each meeting builds on the previous meetings so we deepen as the journey progresses.
Session 1:  Receptivity and Wonder

In this class, we'll open our circle with ritual, intentions and introductions.  We'll explore what it means to be open and receptive and learn practices for connecting to ourselves and others.  The Chakra system and Five Elements will be our maps on the journey.


Session 2:  Getting Grounded – Root Support

Here, we'll explore what it means to be rooted and how we get ourselves uprooted.  We'll also tune into our relationship with our bodies: presence, loving and accepting the body.  Includes Grounding Ritual, Touch, 1st Chakra Breathing, Meditation, Movement, and more.

Session 3:  Enjoying Pleasure

Journey into the joys of the senses.  How do you let yourself enjoy pleasure?  Where do you block it?  How can you maximize sensual and sexual pleasures?  Includes 2nd Chakra Breathing and a fun exploration of the senses.

Session 4:  Self-Empowerment and Confidence


Here we explore our relationship to being powerful women.  How do we get scared of our own power and how can we learn to stand up for ourselves?   Includes practices for establishing boundaries, self-worth and standing strong.

Session 5:  Falling in Love with Ourselves

Here we land in the heart, the realm of love and intimacy.  We'll look at our own relationship to ourselves and practices to foster self-love, compassion, self-nurturing and receiving from others.

Session 6:  Self-Expression and Compassionate Connection

This is where we open up our voice and allow ourselves to be heard.  We'll nourish healthy self-expression through communication techniques for speaking our truths, listening compassionately, and opening the power of our voices.

Session 7:  Growing Inner Wisdom

We arrive in the seat of intuition and inner listening.  We'll cultivate our ability to listen inwardly, see clearly, and cultivate self-honoring through quieter practices.

Session 8:  Making a Spiritual Connection

How do we connect to something bigger?  What gets in the way of that?  Who Am I really?  Through Meditation, Visualization and other practices, we'll discover the highest version of ourselves.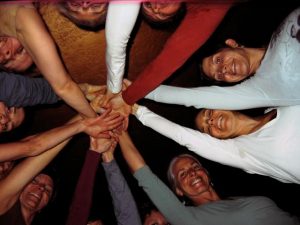 THE JUNE RETREAT DAY: JUNE 10:
A day-long retreat at a private spot on the Trinity river will be a wonderful way to deepen our connections and close our time together. We will play in nature, take our practices to the next level with Mother Earth, and finish with a special ritual.
"I enjoyed Robyn's skill of delivery, her tender voice, her patient unhurried pace.  She created a well thought-out sequence, nurturing atmosphere and ritual."   – Shemaia, Arcata yoga and music teacher
PRICING:
$245 if paid in full by February 10, $275 if paid after
Robyn Smith will be sharing what she calls, The Yoga of Relationships, drawing on over two decades of teaching yoga and practicing meditation, several years of embodied coaching and her 15+ years of practices and training in Tantra. She is a certified Hendricks Conscious Living and Loving Coach trained in the NARM method of developmental trauma, an Anusara Yoga Instructor and a Tantra teacher trainee in the SkyDancing Tantra method.  She uses a dynamic body-centered approach to teaching and coaching where you'll learn to trust your body as a guide.  She specializes in working with women and self-esteem, relationships, communication skills,  and life purpose.  She teaches Tantra workshops with her husband, Patrick, and offers yoga and Self-Empowerment classes and private coaching in Arcata and online.
See more about Robyn's coaching.